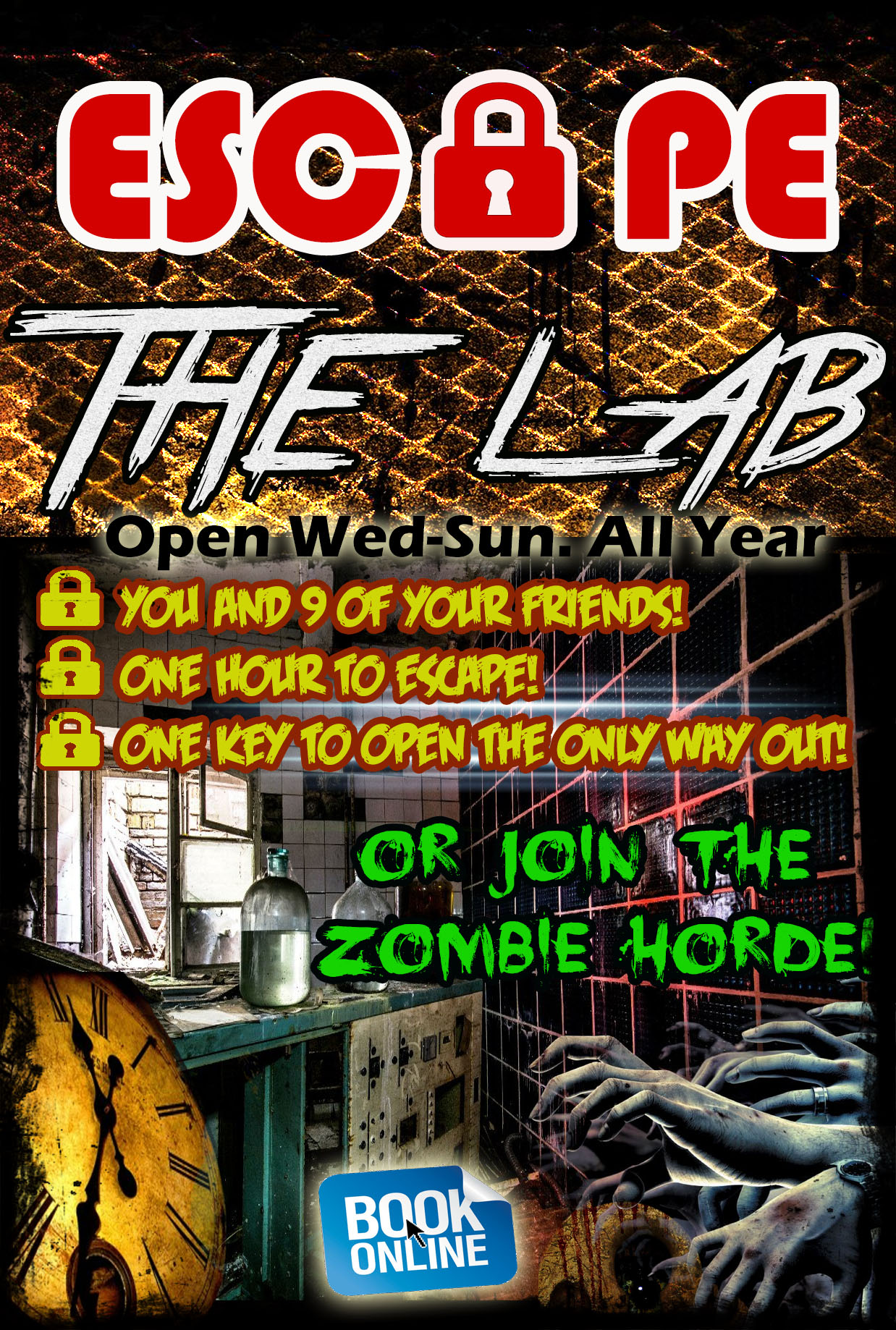 Trapped with no way out, chain link by chain link a brain-crazed and bloodthirsty zombie invades the room. You and 9  others must solve the room before the time runs out and the zombie is unleashed. With only sixty minutes and your brains, you must uncover clues, decipher riddles, and discover the keys to unlock your freedom.
PLEASE show up 15 minutes before your performance to sign a waiver and mentally prepare to escape. Once the doors are locked they will not open again until someone escapes or we need to remove bodies.
*This show runs all year long. Show times are available one month in advance. If you would like to reserve an entire show that is not listed please emailinfo@creepyhollowhauntedhouse.com.
*The maximum amount of people allowed in a show is 10. Shows are made up of individuals and groups. If you do not purchase an entire show, you will be working with strangers as a team to escape the room and not get eaten. You will have a blast!
*You must be 14 years or older to participate without an adult. If you are under the age of 18 you must print out and have your parents sign a liability release waiver. If you are under 14 years older you can participate, but you must be accompanied by a paying adult and purchase a ticket.

TICKETS ARE MADE AVAILABLE one month before the show date. For example, if today is Jan. 5th, the Feb. 5th tickets will be made available. If you are looking for a date that should be available and do not see it, then that show is unavailable or full. We ask that you please order tickets for a show time at least 8 HOURS PRIOR to that show time. PRIVATE PARTIES CAN BE SCHEDULED for anytime there are twelve tickets available for a regularly scheduled show date/time. If you would like to reserve a private time in advance or at a time not listed on our schedule, please e-mail info@creepyhollowhauntedhouse.com to request your own show. TICKETS LISTED AS 'PRIVATE PARTY' ARE NOT AVAILABLE FOR THE GENERAL PUBLIC. Please do not purchase a ticket for a private party unless you are a member of the group. .*** WE DO NOT RECOMMEND this show for women who are pregnant, or children under the age of 8 years old. INFANTS will not be allowed into the room; zombies don't like baby food.